Training Services
Change Management Training
All of Patti's programs are customized for your specific needs. She utilizes web surveys, employee opinion survey data, and other data that will help her deliver a program that will meet your needs and exceed your expectations.
Untying the 'Nots' of Nonstop Change Before You're Fit to be Tied
(45 minutes-full day)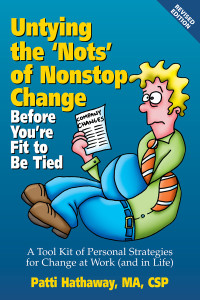 Most organizations tell their employees that "change is good," yet people aren't buying it. Our stress levels are at an all time high. According to a recent survey 71% of us feel used up at the end of the day. The typical office worker sends and receives an astounding 190 messages on average per day. According to Senior executives in Fortune 500 companies, less than half of the changes in their organizations were successful and yet 84% of companies are undergoing at least one major change initiative. Executives attribute these failures to employee resistance. Learn why change is so difficult. Gain strategies for what you can do to lessen the pain and stress that work change causes. We all know that the pace of change is unrelenting, so come and discover specific solutions for how to deal with work changes so you can untie the knots of confusion before you become fit to be tied.
As a result of attending this 2-hour program, you will be able to:
Recognize the crisis of change and how it impacts you professionally and personally.
 Identify the personal losses that create organizational and personal paralysis when you resist change.
 Understand the four phases in the Cycle of Resistance and where you are in the cycle and what that is costing you.
 Discover why it is in your personal best interest to move forward in change (and it's not what you think).
Patti presented her change program to over 13,000 of our employees in our integrated healthcare delivery system. Her program and book are life-changing as she shares practical, easily implemented tools and strategies to deal with nonstop change. Her heart for those struggling with change is valued at a time when people are overwhelmed and fearful. This book motivates all of us to move forward a non-stop change environment!
Mastering the Leadership Challenge of Change
How many of you have received a phone call that started with "Are You Sitting Down?" (Listen to Patti's downsizing story in this 2.50 minute audio excerpt).
Leading organizations through change can be as discouraging as that phone call and may seem like "mission impossible" at times. Embrace becoming a change agent. Learn how employees react when going through change (hear Patti "live" in this realistic 13.10 minute audio segment entitled "Our Natural Reactions to Change").
Build a motivated and productive workforce in the midst of change. Understand change issues and implement practical techniques to help yourself and others cope with change. (Offered as a keynote or training)
Here's what some of Patti's clients have to say about her programs on change:
She tailored the program to our organization and was both direct and insightful with her presentation. Patti is an excellent speaker and clearly enjoys working with a challenging audience.
You provided real-world specific information on how they (managers) can utilize specific techniques for working through change situations. You received high compliments coming from a group of broadcast managers who understand the critical importance of solid content delivered in an entertaining manner!"
The Customization Process to develop Change Programs that Impact the Bottom-Line:
This is how we work with clients to custom-design a program to meet your specific needs. Hear how the process works in this audio segment on "Patti's Unique Approach to Change" (7.40 minutes)
The Steps Patti Takes to Customize Your Change Program
Step 1)
Prior to her program, a link to a web survey is sent to all participants via the meeting planner. Participants provide their anonymous feedback directly to Patti. Your people's comments (with their permission and without their name) are used throughout her program to illustrate examples of how people react to change. It is difficult for participants to argue with their own data which makes Patti's programs highly relevant and applicable.
Step 2)
Patti wants a detailed list of your organization's changes over the last 18 months and its impact on the program participants. She discusses these changes throughout her program.
Step 3)
A complete review of your company's literature (annual report, internal and external newsletters, web site, employee opinion surveys, etc.) helps Patti understand your culture. For associations, Patti reviews your new member literature, past newsletters, and relevant industry information.
The End Result:
A program custom-tailored to meet your specific needs and concerns.
Free Bonus:
Patti offers a complimentary Executive Debriefing/Coaching Session in which she discusses the web survey and provides your leadership team/executive with recommendations for next steps in making your change(s) work.
Recommended Follow-Up: Living Powerfully with Nonstop Change eLearning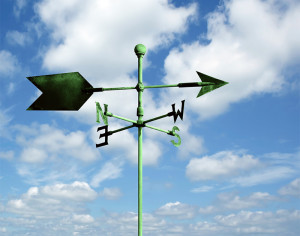 In Living Powerfully During Nonstop Change you'll experience practical, uplifting solutions that will allow you to master change, not just survive it. Learn why change is so difficult. Learn how to lessen the pain and stress nonstop change causes. Shift your perspective with inspiring personal stories, groundbreaking research, and proven behavior-change strategies. With fun, engaging 3-minute daily videos, you can build your change resiliency muscles to abide and thrive in change.
This link will provide access to the first 3 lessons of my 30 lessons.
Please contact me to discuss our exceptionally affordable corporate follow up program offerings – you will be amazed at the price and outcome-based results your organization will experience.
Here's a 2015 interview with Tom Evans (29 minutes) on Patti's new eLearning program Living Powerfully During Nonstop Change: The Zone Interview