The Change Agent Blog:
Change Agent Briefing V4 Issue 2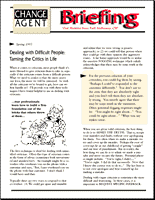 Dealing with Difficult People. When it comes to criticism, most people think it is more blessed to give criticism than to receive it, particularly if the criticism comes from a difficult person. Capitalize on three techniques you can use when dealing with critics.
Download issue in Acrobat Portable Document Format (.PDF)
Audio Excerpts:
"Typical Reactions to Complaints and Criticism" (5.50 minutes)
"Fog, Don't Flog Your Critics" (9.51 minutes)
"The Problem with Information Assumption" (5.46 minutes)