The Change Agent Blog:
Is Change a Beginning or an Ending?
Change can be viewed as a beginning or an ending . . . or both. For example, we are experiencing major change in our home this month. Our oldest son Bryan moved to Dayton 3 weeks ago where he transferred to Wright State University and will be finishing his Elementary Education degree. This weekend, we will be moving our youngest son Drew to Ohio State University where he will be studying to become a Food Chemist. While I'm delighted to have a cleaner home, I'm also feeling the pain of not having daily interactions with my boys. Is this a beginning or an ending?
It depends. My hope over these last few years has been that by the time my kids left home that we would all be genuinely sad (rather than counting the days until they were gone) and their departures have been both sad and joyous. I want them to thrive in this new beginning for them because I want them to become the men they were created to be. Yet, the ending of this season of our relationship is also a very real loss to me.
Often change can be both a beginning and an ending. It's how you choose to view it. I admit that sometimes it's challenging to practice what I teach – to focus on what I can control and to let go of what I cannot control. Like you, I'm learning how to enjoy this journey of nonstop change day-by-day both personally and professionally. On to my tips for your workplace…
In the midst of nonstop work change, it can be easy to forget our customers when our organization is going through change. Change is rarely transparent to those we serve. So, today's tips are from my 93 Tips for Managing Change booklet and these specific tips come from my section on Tips for Managing Your Customers through Change:
Be proactive in your communication but recognize that many customers don't read your marketing literature. Therefore, increase the various types of external communications you develop. Use newsletters, advertisements, and your Website to inform your customers of changes that impact them.
Broaden your customers' understanding and perspective about your change(s). Are you changing for the sake of change or is there a clear reason to do so? Customers don't want to switch to another service/product provider unless they must.
Make it easy for your customer to do business with your organization regardless of change. Be the best in providing a system of procedures and policies and way of doing business that was designed with the customer in mind AND be the very best at delivering service that your competitors cannot match.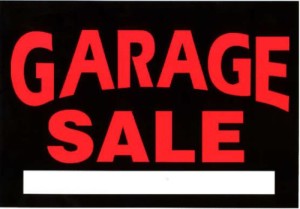 Book Garage Sale: As we've been contemplating our boys moving out, I'm beginning to think about downsizing. So, I'm going to have a "garage sale" on my Banking Secrets books. One of my former niche markets was in banking (that was before the banking crisis) and I wrote two of my books for that market. Although the examples are specifically from banks, the content itself applies to all different kinds of organizations and they are great learning tools. So, I've decided to have a huge sale on these books. They are far more beneficial in your hands than on my storage shelves.
I hope you will take advantage of this great offer – 2 books that normally retail for $21.90 will be sold for $5 total. This will cover my shipping and handling costs. You will automatically receive one of each book unless you indicate in the Note section of your paypal order that you want 2 of a specified book. If you are buying these for work, you can also mail me a check. You can order as many books as you would like at this special price. Be sure to use this special link to place your order: Click here to order the Banking Secrets Book Bundle
Here are the specific details about each book:
Handling Customer Problems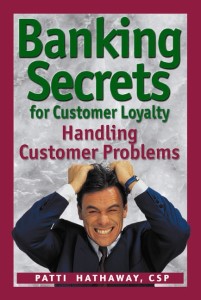 Gallup recently surveyed retail banking customer and found that only 26% of bank customers who had not recently had a problem considered themselves extremely satisfied with their bank versus 51% who had experienced a problem but were extremely satisfied with the way it was handled. For most banks, the bottom-line is impacted by how well your employees handle customer problems and whether or not they keep your current customers loyal to your bank.
Discover the two dimensions that determine exceptional service and the main ingredients that will build your bank's customer loyalty
Understand why a customer's complaint is a gift to your bank
Learn five steps to owning and fixing your difficult customers' problems
Apply three techniques for handling complaints and criticism
Here's What People are Saying:
"If you want to improve customer service in your bank then Patti Hathaway's new book is a must read! It contains a wealth of information that can be easily incorporated into your business and it will have a positive impact on the bottom-line results. Ms. Hathaway's approach is convincing, practical and lasting."
"Patti Hathaway hits the mark with sensible, practical and most importantly actionable ideas. In her light hearted style she ties this together with actual real life examples. Her book will be a great inspiration for our team and will provide a true payback for our customers and our employees."
Executive Vice President
"A unique and memorable approach to providing exceptional customer service to banking customers. Patti Hathaway provides fundamental skills that are essential for building customer loyalty in banks today."
President
Unleashing Employee Greatness
Unleashing Employee Greatness.gif Do you know how to unleash greatness in your employees? It largely depends on whether you are a manager or a leader. Do you understand the difference between the two? Gallup surveyed one million employees and 80,000 managers and found that an employee's relationship with his/her direct supervisor will determine (1) how long they will stay, and (2) how productive they will be while there. Becoming less of a manager and more of a leader can be an extremely powerful and profitable change – both in terms of meeting your organization's goals and in the greater personal satisfaction both you and your employees will enjoy. This book will enlighten, motivate and inspire you to take on the challenge of unleashing every employee's greatness!
Learn and recognize the phases each manager goes through in order to become a leader.
Understand how to encourage your employees to take on more responsibility and accountability so that you can have more time to lead rather than manage.
Discover why investing and spending time with your best employees is the fairest thing to do.
Apply the crucial skills of giving praise and constructive feedback to your employees.
Here's What People are Saying:
"A masterful job of researching and presenting leadership strategies that will reap bottom-line results in the organizations that implement them Managers will benefit professionally and personally from reading your book."
"This is a must-read book for companies that are serious about improving employee performance. Patti Hathaway provides a real-world approach to improving employee productivity that provides companies with a road map for success."
President High Point University
"Patti Hathaway has a gift for synthesizing practical insights from the real world of the marketplace. In the classroom and in her books she provides ideas that leaders can use."
Executive Director