The Change Agent Blog:
Change Agent Briefing: V10 Issue 1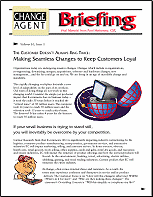 Do you know what seamless changes to make to keep your customers loyal? The rapidly changing workplace demands a new level of adaptability on the part of its workers. Old ways of doing things do not work in this changing world.
Download issue in Acrobat Portable Document Format (.PDF)