The Change Agent Blog:
Change Agent Briefing: V9 Issue 1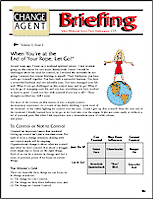 Do you sometimes find you are at the end of your rope when it comes to organizational change? Then, let go! In this newsletter issue you will learn what to do with all the things you do not have control over in your change situation.
Download issue in Acrobat Portable Document Format (.PDF)