The Change Agent Blog:
Change Agent Briefing: V9 Issue 3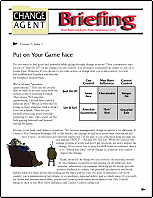 Do you want to feel good and powerful while going through change at work? Then learn how to consistently take action on the things you can control. Discover in this issue how to put on a Game Face rather than feeling helpless and hopeless.
Download issue in Acrobat Portable Document Format (.PDF)